Book Trailer: Attract Your Ideal Weight
We recently had the pleasure of working with Zaheen Nanji, an international speaker on Team Dynamics, Success, Health and Wellness. Zaheen approached Creamy Animation looking to create a book trailer for her book "Attract your Ideal Weight". She had seen how many book trailers were done but was looking for something unique. We created this captivating and fun animated book trailer to help promote her book.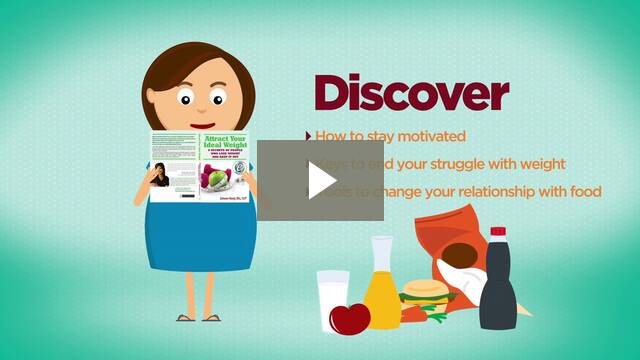 1. Consultation
First, we take time to understand your business, and the message you want to convey, so we can determine the best way to communicate it effectively.
2. Script
A video is as powerful as the story and script behind it. We create a compelling script that connects with your audience and evokes your desired action.
3. Voiceover
The voiceover is the driving force behind your video, so you need a professional, with the right accent and tone to deliver your message.
4.Storyboard
This is a scene-by-scene draft of how the video will play. Once approved, we create a unique style that determines its look and feel.
5. Animation
Your video comes to life, as the illustrations are animated, voiceover and sound effects added, and final video rendered.
6. Delivery
Finally you get a brand spanking new, animated video in high quality HD format.
Why Use An Explainer Video
Clearly communicate your message in 90 seconds or less.
Present your idea to investors with a compelling explainer video.
Simplify a complex idea so your audience understands it.
Engage your online audience to establish credibility.
Use an explainer video to help customers understand your value proposition.
Boost your website conversion rates.
Teach or train your employees.
Generate interest in your product or service.
People remember 50% more with video, than when they read text.
An explainer video costs only a fraction of creating a live action commercial.
Working with Creamy Animation was a professional and well managed experience. Every step of the project was well thought out and smooth. We have had great feedback on the video.

David Papp,

Microtek Corporation
Thanks to Creamy Animation I have a very informative, unique and entertaining video to promote my business. The feedback I have received on the video has been overwhelming.

Brian Elston,

iMortgage Solutions
Creamy Animation did a fantastic job and everyone who sees the promo wants my game! I have been very happy with Creamy Animation's work and capacity to respond to a variety of requests.

Marie Gervais,

MDJ Solutions
Creamy Animation is very creative in their animated videos and I've had tremendously positive feedback from many people who have seen the video. I would recommend them to anyone.

Ron Lefebvre,

Pure Mortgage
We did up front research on explainer video production companies and decided on Creamy because they were a great value and their finished work was unique. Our final Tenjam video was perfect.

Mike Collins,

Payless Penalty
Have to say that the process of doing the video was quick and easy. We are very pleased with the results. The video has helped explain our business model to visitors in a way that text could not do.

Bruce Schoenne,

Payless Penalty
We created an explainer video for TrafficTrain.com. With a service that was complex, the client needed a short video […]
This was a fun explainer video we created for HireYouOn.com. The company needed an easy to understand compelling video […]
We created this animated explainer video to show you how HireYouOn.com can help you standout from the crowd and […]